Sharmine Vasquez

Agent

in Murrieta, CA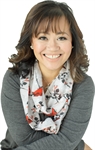 Languages Spoken
English, Tagalog
Professional Designations
REALTOR
Expertise Types
Certified Notary, Condominiums, Land, New Homes, Residential, Single Family Homes, Townhomes
Since 2006, I have had the privilege of helping families achieve their dream of owning and selling a home so they can reap the rewards. I want to be a resource for my clients, to let them know they have a friend in the business that cares about their needs as if they were my own needs. Every situation is unique for each individual or family, if the need is immediate or long term, I respect their special circumstances and make myself available to listen and understand so I can customize my services to meet their goals.
As a wife, mom, friend, and realtor, I am grateful for family, friends, and referrals. I graduated from Santa Barbara City College with an Associates in Biomedical Sciences and Social and Behavioral Sciences with honors. I have a background in Corporate Training, Human Resources, and Medical, using my educational and professional background to understand and empathize with my clients needs. Instead of going into the medical field, I decided to go into Real Estate because I didn't have a lot of support when I was buying my first home and I realized that many others felt the same way; and with my passion to help others with one of their most valuable investment, I wanted to provide the service that I didn't get. Motivated by my faith in God to love and help others; I believe people come first before business which equals "Service You Deserve".
I keep my website updated because the market is active with new information. I want to provide the latest resources available; and if you need more information or have any questions, please feel free to call or email me.
#HumansOverHouses "Enriching Lives by Helping People find their NextHome"